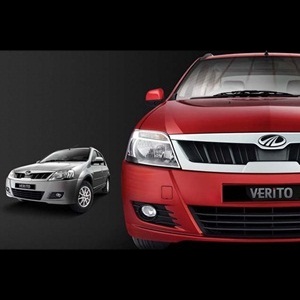 The country's leading SUV maker, Mahindra & Mahindra's first attempt at a sedan - Verito - failed to generate any volume for the carmaker. In fact, its notchback model - the Verito Vibe - met the same fate as its sedan sibling.
However, Mahindra doesn't seem to have given up just yet; the carmaker is now planning to bring in the electric version of the sedan in India by mid-2015. The Verito Electric will be positioned in the commercial car-rental segment and the company hopes to sell around 100 units of the electric model of the car every month. Furthermore, the company is also planning to export the electric Verito to international markets, including Europe.
Mahindra showcased the pre-production version of the Verito Electric at the 2014 Delhi Auto Expo and from what we can see, the exterior and interior styling of the car remain unchanged.
That said, the vehicle misses out on the exhaust pipe, while the boot lid features a prominent automatic and electric badging. A charging point replaces the fuel lid and it can be connected to a home electric unit for charging. It is powered by a 29KW (39bhp) AC motor, which allows the electric Verito to run up to 100Km. It features lithium-ion batteries which can be fully charged in 7 hours.
Users will also get an option of a 'fast charge', which will allow the batteries to be charged in just 1.5 hours. The Verito Electric offers a decent top-speed of 85Km/h. It will be positioned above the diesel Verito, and is expected to be priced around
Rs.
9 lakh.